Systems Training Center's Kids Martial Arts program is designed to teach children between the ages of 5 and 12 the fundamentals of MMA through exciting group classes. Technique is heavily stressed during training, but laughter and smiles are a requirement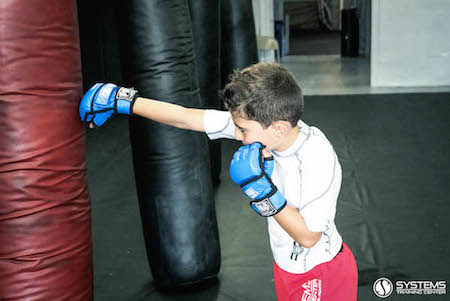 There Are Many Reasons Why Children Join Our Program:
Learn self defense
Gain confidence
Learn MMA techniques
Have fun
Make new friends
Lose weight
Compete as a member of our team
Understand discipline and martial arts
Systems Training Center can help your child succeed and help reinforce the life skills you would like to see in your child at home and school!
Our Kids Martial Arts classes focus on building not only great martial artists, but also building character, confidence and self-esteem. Our highly-trained and qualified instructors concentrate on enhancing early childhood skills such as balance, focus, concentration, memory, discipline, teamwork and fitness.
Our Kids Martial Arts Classes In Hawthorne Are A Fun & Exciting Way To Teach Your Kid Discipline & Self-Confidence!
Our in-house tournaments are a blast for those willing to display their skills in a friendly environment. We also have a kids competition team that we regularly send to Brazilian Jiu-Jitsu tournaments
Fill out the short form on the side of this page to get all the information you need to get your child started today and give your child a kick start to success.