What do you do when a fight hits the ground? The Systems Training Center Brazilian Jiu Jitsu (BJJ) Program in Hawthorne has the best and most effective techniques used by BJJ practitioners for sport or competition against opponents of all sizes in the Los Angeles area. Our Systems Training Center BJJ Program includes both gi (traditional BJJ kimono) as well as no gi submission.
Systems Training Center Brazilian Jiu Jitsu in Hawthorne teaches the concept that the smaller and weaker person can defend themselves against a larger, stronger and physically opposing individual. You will learn how to utilize leverage and technique in order to end a fight via various forms of submissions such as chokeholds, leg locks, arm locks and joint and body manipulation.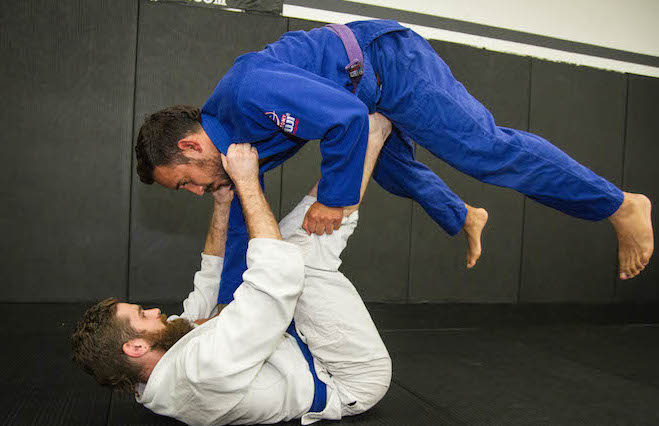 We Offer Brazilian Jiu Jitsu Classes In Hawthorne For Both Advanced And Beginner Students!
Pedro Munhoz heads Systems Training Center's BJJ Program for our students in and around Manhattan Beach and Redondo Beach. Pedro currently fights out of Blackhouse, training with the likes of Anderson Silva, Lyoto Machida, Glover Teixeira and a slew of other world class UFC and MMA fighters. Coach Pedro holds a second-degree black belt in BJJ as well as a black belt in Judo and high level wrestling experience under the tutelage of Kenny Johnson. His experience includes training under Fernando "Terere' Augusto along with Andre Galvao and Cobrinha at the legendary TT Team.
Students of Systems Training Center Brazilian Jiu Jitsu class in Hawthorne will spar ("roll") with other students in this class after they have acquired enough experience deemed necessary by the head coaches.
Class Overview:
A typical Systems Training Center Brazilian Jiu Jitsu class includes warm up, stretching, technique drilling, free sparring "rolling" and cool down.
Equipment:
Mouth guards are required for this class, groin protection is recommended.
Restrictions:
The Systems Training Center Brazilian Jiu Jitsu Program is available to students 16 and up.
Fill Out The Short Form On The Side Of This Page To Request More Information About Systems Training Center's Brazilian Jiu Jitsu Classes And Get Fit While Learning To Defend Yourself!