---
Terrion "Flash" Ware
height: 5'8
weight: 135
MMA INSTRUCTOR
BACKGROUND: KARATE/BOXING
EXPERIENCE: 20YRS KARATE, 8YRS BOXING, 4YRS MMA
PRO RECORD: 11-2
Terrion started training at the age of 5. He started off with Kyokushin Karate and he received his black belt in it in 2004. Boxing was his next step in his fighting career. When he was 15 years old Terrion had 13 amateur fights. However, Terrion was not always a fighter, he spent most of his life playing traditional sports. His time was spent playing Baseball, Football, basketball, and Track. He received multiple accolades in all. Before Terrion started his career in MMA, he got the opportunity to play minor league baseball. He played minor league for one year. He thought baseball is where his life was headed but MMA is where life led him. He got started with MMA in April of 2010 and compiled a record of 6-6 and he won two titles. In just two years, he went pro in June of 2012. Terrion now has a record of 11-2. He is currently the BAMMA USA Bantamweight Champion and the IFS Pro 1 Bantamweight Champion. Terrion trains under four amazing coaches. His MMA head coach is Ian Harris. He also has a striking coach, Rod Mckiver. His Brazilian jiu Jitsu coach is current UFC fighter Pedro Munhoz. Finally, his Strength coach is Adam Lerner. Terrion is not only a fighter, but he is an instructor, a teammate, a husband, and a father. He is a part of the fight team here at Systems and an MMA instructor at Systems as well. He takes pride in the sport and loves to help others in the sport as well. He also takes pride in his family. His family means the world to him and they fully support him in his fighting career. If you have any questions about MMA please feel free to ask him, he would be more than happy to answer any of them. He is also a personal trainer in Circuit MMA training, kickboxing, boxing, MMA, and BJJ.
---
I'm John Robles currently 31 yrs old. Born 8/30/82 I fight at 135 lbs for World Series of Fighting I made my Pro Debut in 2010. I'm 7-2 as a Pro with 6 Finishes by KO/TKO Placed 1 or 2nd in 6 of 8 Jiu Jitsu Or Grappling Tournament's I've entered including Gracie Nationals and North Americans. I'm currently a Purple Belt I'm a well Rounded MMA Fighter with Good Striking and Good Ground an Pound I don't like Decisions, I always look to finish my fights. I love being a professional fighter as well as instructor at systems training center I think they go hand in hand if you really wanna try an perfect your craft. As well as fighting I instruct the MMA Fundamentals Class and a MMA Conditioning Class at Systems. Before I started training I was an multi sport athlete growing up a beach rat going up an down the Cali coast also traveling to South American an Indonesian Islands chasing the surf. My main sports we're soccer and baseball but I was always trying any sport I could. I think having done so many different sports, traveling, surfing have all made me a well rounded athlete an person which are important for any Martial Artist. Being a Martial Artist to me isn't just a in tune Physical person but a Spiritual and Mentally Conditioned well balanced person. I can only hope as an Instructor to be able to help prepare through Martial Arts and Fitness any of my students to be confident they can tackle anything life will throw their way. I was once told by a good friend that "The Journey is nothing without the people you bring along with you"-Clay Guida. That's always stuck with an influenced me to think that acquiring knowledge and tools are a waste if you don't pass it on. So as I make my way up the ladder to the top I'm blessed to have such a great family in Systems Training Center....Now sign up on your way out.
---
Christos Giagos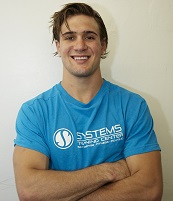 High school MVP wrestler
CrossFit L1 certified trainer
Personal trainer
NPC men's physique competitor
BJJ blue belt
4 gold medals in jujitsu tournaments won out of 5
Gold medal in pankration tournament Grapplers Quest 2009
6 years martial arts training
Former Respect in the Cage Champion
Fought for Tachi palace light weight championship
Win over UFC vet Chris Tickle
7-2 pro record
Christos Giagos has lived a life of fitness ever since he was a child. He has been involved in multiple athletic activities ever since he was little boy. He began playing football as his first sport. He chose football because growing up and watching his dad enjoy the sport on TV made him want to play. He first started the sport at the age of ten. At this time he also started playing basketball. He played both sports competitively until the age of 17. With complications going into his senior year, he ended up not playing football and joining the wrestling team solely because he needed a 6th period. He started training with the team and they ended up forcing him to participate in a tournament. At this tournament he ended up placing, not only did he place but he placed first. After that tournament Christos fell in love with a sport that was more focused on the individual. Finishing his senior year with wins over State qualifiers and awarded the MVP trophy and most pins award he continued his journey in the similar format of the sport. He started training in Brazilian Jiu Jitsu first then kickboxing. At the age of 19, with the help of his wrestling background, within one year of training he had his first professional MMA debut, which he won. He has traveled all the way to Thailand to sharpen his skills as a fighter to train with the best. He has also been training very hard to develop his skills to be the best fighter he can be. He currently has a record of seven wins and two losses, four of those fights being title fights. His ultimate goal is to continue his journey fighting and making fighting his life career. While working hard to accomplish his goal, he is also an instructor here at Systems Training Center. He is a kickboxing instructor and also a certified CrossFit instructor. When he is not training and instructing here at the gym, he also spends his time as a personal trainer. He is very knowledgeable and his experience makes him a great instructor and personal trainer. Please feel free to contact him if you have any questions.
---
Doug has an amateur MMA record of 7-3, an amateur kickboxing record of 2-0 and has trained with some of the best coaches and fighters in the world. Doug has traveled to Thailand to sharpen his Muay Thai. Doug is currently a purple belt in Brazilian Jiu Jitsu under Eddie Bravo at 10th Planet. Doug is also 2013 SJJIF Featherweight World Champion (no gi grappling).
---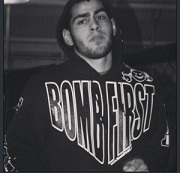 Age: 22
Born: 1/1/91
From: South Central LA
I've been training since August 2009. Had no previous martial arts experience, but had my first amateur fight one year into training. In CAMO I have a record of 6-3 with 3 first round stoppages. I've never been stopped in a fight. I was ranked in the CAMO top 10 of the state in 2012 at number 7. Turning pro this year in the near future.
---
Jared "Crazy Legz" Carlstein
Jared "Crazy Legz" Carlstein is of Jamaican and German descent. Jared stands 6'1" and fights professionally at 145lbs and 155lbs. Jared has the best Rubber Guard in MMA. Jared actively participates in Brazilian Jiu Jitsu tournaments and he is Eddie Bravos 9th Black Belt. Jared specializes in all 10th Planet techniques including: Rubber Guard, Twister and Lockdown. Jared is well known for his extreme flexibility and many fear being caught in his legs. Jared dedicates most of his time to give his students his personal attention to make sure that they reach their fullest potential. Jared is a very detailed oriented instructor who believes in bringing perfection to the Brazilian Jiu Jitsu game.
---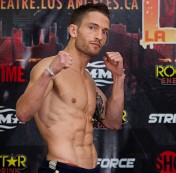 Currently Marcus serves as the Lead MMA Training Instructor and Owner of Systems Training Center as well as the CEO and Co-Founder of Fitnesscenter.com. In addition, he is the Host and MMA specialist for StudioMMA and MMANytt.
---
I was born and raised in Compton, CA. I'm 23 y/o. I was born on January 3, 1991. I attended and graduated from Dominguez High School in 2009. I attended Cerritos College majoring in Business Administration with emphasis on Entrepreneurship. I wrestled in high school and college. Started MMA training November 2013. I just had my first fight March 21st and won via TKO in the 3rd round. I have 2 older siblings. My Ethnic back round comes from Guatemala and El Salvador. On my father's side of the family, we come from a line of Mayan descent. Favorite food is Italian. Favorite Sports team is the Green Bay Packers. Favorite show is Moonshiners. I listen to a broad range of music from rap, rock, country, to classical. Besides listening to music to pump me up, I listen to motivational/inspirational speeches from Ray Lewis and Eric Thomas. I love traveling, been to Hawaii, El Salvador, and Guatemala. I hope to visit many of the European and South American countries in the future. Ambitions: To have a successful MMA career and to have my own business one day.
---
His introduction to combat sports began with a short stint in Tae Kwon Do at a young age. Years later he started training Dutch Muay Thai under the tutelage of former UFC Heavyweight Antoni Hardonk. His skills as a striker were further refined by boxing coach Gustavo "The Guru" Satragni, trainer of notable Professional Boxers including Shane Mosley.
In order to become a well-rounded mixed martial artist, Roger learned his wrestling fundamentals and other MMA related techniques from Vladimir "the Janitor" Matyushenko and studied Brazilian Jiu Jitsu with Andreh Anderson, a Rey Diogo black belt. He later sought instruction from Greco Roman Wrestling Pan Am Champion Marc Black from who he learned advanced pummeling and clinch techniques. In search of different BJJ styles, Roger continued to train at various Jiu Jitsu schools throughout the South Bay.
---
Takashi Munoz
Takashi's fight career began at age 12 with competitive kyokushin karate. That same year placing 2nd in kyokushin tournament with only 8 months of training. From there he has placed top 3 overall in the karate tournaments he has competed in. At age 17, he was chosen as United States representative to compete in the very first yokushin Junior World championships. From there he placed in the top 16 out of 2300 fighters in the Junior World Championships in Tokyo, Japan. After beginning collegiate studies in kinesiology, Takashi began seriously training in kickboxing and boxing with well-known legend Frankie Liles and has acomplished an overall record of 5-2.
---
Vince currently holds a blue belt in Brazilian Jiu Jitsu along with five years of kickboxing experience. He also spent a month in Thailand training Muay Thai with the pros. He actively competes in the Brazilian Jiu Jitsu tournament scene (winning gold in his last competition) and the SoCal amateur MMA circuit.
---
AJ Lavarias



AJ is from the Pacific Northwest, where he grew up playing ice hockey. As an adult he played on a Junior Competition Team that traveled the nation to tournaments and competitions.
---
James Acosta
James started practicing Martial Arts when he was 6 years old and started training in Muay Thai when he was 11 years old.
James currently boasts a 8-1 amateur record in Muay Thai with a 8 fight winning streak. James has a 3-3 record in MMA.
---
Reshan Sabaratnam
Born in West Los Angeles, Reshan started his martial arts training at the age of 8, training in Hapkido under Grandmaster Bong Soo Han. Reshan became the youngest black belt in the history of the International Hapkido Federation, and began teaching adult classes at the age of 15. His training took a pause during his college years, but was immediately hooked into the world of MMA after watching his first UFC event. After some encouragement from close friends, he quit his job to devote himself to MMA training. Reshan has been training with Coach Ian Harris for many years, and is a veteran of 11 amateur and professional MMA fights, with a professional record of 1-1. He loves the sport of MMA and endeavors to combine the philosophy and discipline learned from traditional martial arts with the evolved techniques and training philosophies of modern MMA
---
Luis Trejo
Luis is an instructor here at the gym. He started training with military combat fighting at a young age. From there he grew passion to be in the military and continued training into sport martial arts by the age of 13. Training at a local boxing gym where MMA was being taught Luis trained with Don Stoner a brown belt in Brazilian Jiu Jitsu training MMA and no gi Brazilian Jiu Jitsu under him. Laster training under AMMS (Academy of Mixed Martial Science) earning a green belt with their MMA belt ranking system. When the gym was sold Luis was offered a job to teach kids MMA for the new gym named Systems 8 Fight Club and began training Close Quarters Combat to help with his training for the military. Currently preparing, Luis is training for Naval Special Forces and has a goal to be one of the few that pass a grueling six months of selection called BUDs. Currently at Systems Training Center Luis is the head coach for the Kids MMA program creating a unique belt system for MMA to prepare the kids for self-defense, pankration, and fitness. This curriculum is to prepare kids for the transition from kids classes to the adult classes and be able to compete and train just as well. Luis has trained several student the passes 2 years of Brazilian Jiu Jitsu tournaments for NABJJF and his students have all medaled. Luis is also an expert in fitness and knows many ways of losing weight and gaining muscle.
---
Rob Fernandes
Rob grew up in Taunton, Massachusetts. However, he decided to move to Los Angeles around six years ago. Moving here sparked his interest in Mixed Martial Arts. He started training in MMA when he moved here an dhe had his first amateur fight in 2010. He has a current Amateur fighting record of 5-2, three of those wins were in kickboxing and two of the wins and losses were in MMA. During this time, he received 20+ medals for competing in Brazilian Jiu Jitsu tournaments. Some of these tournaments include Grapplers Quest, Best of West, Grappling X, and Nabjjf. His experience varies in multiple styles. He has trained Muay Thai, Savage, Silat and JKD under Sifu Ray Copeland. He has also trained no GI Brazilian Jiu Jitsu and Grappling under Sean Choi. Tahi Burns, Jared Bunch and Pedro Munhoz. He has trained in Boxing under Seb Zewbie and Black James. Finally, he received his experience with MMA under the one and only Ian "the mad scientist" Harris. He has enjoyed all of his instructors and all of his training experience with the sport, which is why he decided to instruct as well.
Rob is currently an instructor for no Gi Jiu Jitsu at Systems Training Center. He is also a Father to a beautiful two-year old girl who is very important to him. Besides being a father first and an instructor here at Systems, his other main focus is on helping under privileged teenagers.
---
Akkim was born in Brooklyn, New York. He lived in the city until he moved to Tobyhanna, Pennsylvania in 1994. During his high school career he studied Tae Kwon Do for 2 years and wrestled for Pocono Mountain Senior High School. In 1998 he attended Penn State University and in 2002 he joined the Penn State Quantum Jujitsu Club. He quickly obtained a love and admiration for the sport of Mixed Martial Arts. After studying under Sensei Cory Wimberly and Sensei Dave Light for 4 years he attained the rank of blue belt. After receiving his BA in communications he moved to Los Angeles to pursue a career in filmmaking. In 2008 he joined the Muay Thai Academy and studied the art of Muay Thai under Kru Santi Sakkomkai. In 2009 he began studying mixed martial arts at the Academy of Mixed Martial Sciences, currently A4 Fitness. Akkim began his amateur MMA career under his new coaches: Tito Lozada, Kru Paulo Tocha, Jeremy Pollock and Leo Soares. He has an amateur career record of 3 – 4 with 2 wins by way of TKO. In February of 2010 he defeated Brad "The Brick" Crihfield via arm bar submission and became the amateur lightweight champion for the Ring Of Fire promotion. Akkim is making his directorial debut with a short film called What It Takes. A story centered on a young girl preparing for her first MMA fight. Akkim Lee currently teaches MMA and Muay Thai. He is also training at A4 Fitness and Systems Training Center under Coach Ian Harris and plans to make his professional MMA debut.
---
Eric Rios
- Started MMA training in the Summer of 2011.
- First MMA Amateur bout October 2011.
- 3-1 MMA Amateur Record.
- BJJ Blue Belt under UFC Bantamweight Pedro Munhoz.
- Instructor in MMA, Kickboxing and NoGi BJJ. Eric Rios was born in Southern California's San Gabriel Valley and grew up in La Puente, CA. Eric's curiosity of any sort ofcombat was when he won a free class at his local Karate studio, Red Dragon Karate. After the first class he was hooked but unable to find the necessary funds to continue in his training his passion of Karate steered away. Into his teen years and young adulthood, Eric transitioned into music where he leaned how to be creative and have inner peace. That knowledge later transitioned into where Eric is now. After only 5-7 months of training Eric had his firs Amateur MMA bout. He fought a man 10 pounds heavier than himself and won unanimously. Growing in up in a gang filled violent area Eric has had every curve ball in life come his way. He likes to believe this it what gave him is Warrior Spirit. Ready to make his Pro MMA debut Eric Rios believes in family, focus, fluidity and fearlessness.
---
Madison McElhaney
- Madison McElhaney is an LA Native with an immense passion for health and fitness. At the young age of three, Madison began her 14-year long gymnastics career. Over the years she competed and placed in numerous state and national competitions; however, with this success came 32 broken bones and 9 surgeries. After a career ending hand injury, Madison chose to finish out her high school years following her passion for gymnastics by coaching the younger girls at the gym she grew up in. Two years later it was time to head out for college, and she had to say goodbye to the sport once and for all. Madison graduated college one year early in 2012, with a Bachelor's Degree in Communications (Adv/PR). During this time, she managed a year of travel in Europe, hopping from country to country seeing what the world had to offer. Upon her return back from the States, Madison began working in restaurant marketing. She quickly realized this was not the right fit for her, and switched over to fashion PR, then to production, then back to entertainment PR. It was at the age of 22 when she accepted and embraced her true calling as a Health and Fitness Professional. Madison began working at a corporate gym in West Hollywood as a Personal Trainer in early 2013, and quickly established a full-time client base. After one year in the corporate gym world, is was time for her to go off on her own; and there came Mad Fitt. During her time as a PT, Madison got into Mixed Martial Arts and began intense training for competition immediately after she realized her love for the sport. Any time she is not training a client, or teaching a class, she is training herself for her next fight. Madison's current certifications include NASM Certified Personal Trainer, NASM Mixed Martial Arts, NASM Nutrition, Jillian Michael's Body Shred, Dot Fit Nutrition and Supplementations, UFC Gym Certification, CPR and First Aid.
---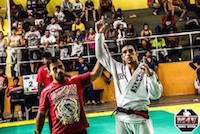 Thiago
- Started MMA training in the Summer of 2011.

- 4x Third Place Brazilian National of Jiu-Jitsu – IBJJF
- Champion South American of Jiu-Jitsu – IBJJF
- 2x State Champion - Rio de Janeiro - Champion International Miami Open of Jiu-Jitsu – IBJJF
- Third Place European of Jiu-Jitsu – IBJJF
- Champion World Cup of Jiu-Jitsu – CBJJO