Systems Training Center in Hawthorne, CA is excited to offer a full training center for all of your workout needs.

Systems Training Center is Hawthorne's premier MMA Training Center, Krav Maga, Muay Thai, Kickboxing, Boxing, Brazilian Jiu Jitsu, Self-Defense and CrossFIt gym in the South Bay. Drop the boring gym routine and join us if you want to get into the best shape of your life and have fun doing it too. We offer a wide range of classes covering: self-defense, fitness, weight loss, MMA training and fighting.
If you are looking for self-defense classes in the South Bay, we offer specialized Krav Maga courses taught by our certified black belt, Marcus Kowal. Krav Maga is a martial art designed to keep you safe both in the gym and on the streets. You will learn practical self-defense techniques against single or multiple aggressors with the without weapons. Keep safe in Hawthorne with Systems Training Center's Krav Maga self-defense courses.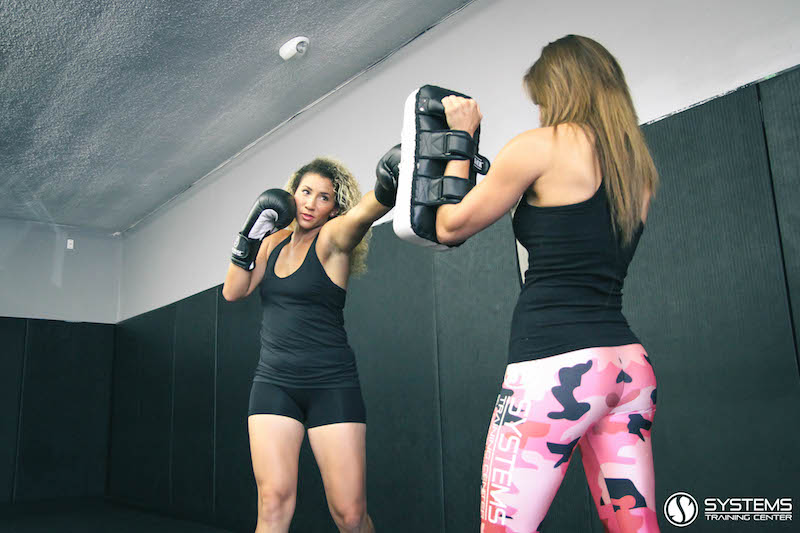 Lose weight and tone your muscles with our System Training Center fitness classes. We have various kickboxing for fitness and boxing classes to help you burn calories in a fun, high-energy environment. You will punch and kick bags, pads and mitts in a series of workouts involving partner drills and solo work. Show off your new beach body year round at Manhattan Beach and Redondo Beach nearby.
Systems Training Center is home to Hawthorne's premier CrossFit gym. Our certified CrossFit program comes complete with state of the art equipment located in the black room of our 5,000 sq. ft. facility. CrossFit is a series of intense workouts that will help you improve endurance, flexibility, power and gain muscle while burning fat.
Systems Training Center offer the South Bay's top fight program consisting of MMA training, Kids, MMA, Brazilian Jiu Jitsu, Muay Thai, Kickboxing and Boxing. Our experienced professional trainers will help you learn the proven techniques of these arts, whether your goal is to one day fight in the UFC, or simply learn self-defense from successful combat athletes. We are also home to one of the best professional and amateur MMA fight teams in Hawthorne, Redondo Beach, Manhattan Beach and all across the South Bay and Los Angeles area.
If you are looking for the best MMA training and fitness gym in the Hawthorne, Manhattan Beach, Redondo Beach and Los Angeles area that also offers CrossFit taught by the best and most experienced professional trainers, then Systems Training Center is right for you.
At Systems Training Center, we offer free trial classes so you can experience what it's like to train with us! Please call us at 424-429-1337, visit us on Facebook and Twitter.
We Have EVERYTHING You Need In A Training Facility:
5,000 sq. ft. of Training Grounds

State of the Art CrossFit Rig

Bathrooms and Showers

Sliding Heavy Bag Rack

Pro Style Boxing Ring

Lounge Room

Wrestling Mats

Weight Room

Cardio Equipment: treadmills, bikes, elliptical

CrossFit Equipment: Kettlebells, Medicine Balls, Battle Ropes, Tires, & Sledgehammers